Posted by Lynn Murden on
The Yummies in a Jar Chocolate Cherry Jam, enhanced with creme de cacao and kahlua, takes Trifle to a whole new level!
Posted by Lynn Murden on
Grease & flour a 9" round or 8 1/2" x 11" cake pan. Preheat oven to 350 degrees F.  Bake 50 - 60 minutes or until top is lightly brown and a toothpick comes out dry.  Cool then spread with the Wild Blueberry Jam.  If desired, top with whipped cream - Yummy! Ingredients 3/4 cup soft butter or margarine 1/2 cup sugar 3 eggs 1/2 cup Yummies in a Jar Maple Syrup with Rum or Brandy 2 1/4 cups all purpose flour 1 Tbsp baking powder 1/2 cup milk 1 1/2 cups wild blueberries - fresh or frozen 1 cup...
Posted by Lynn Murden on
Another recipe submitted by one of my wonderful customers but I don't know who to thank!  If it's you, please let me know. Preheat oven to 400 degrees F.  Grease or spray a 12 cup standard muffin tin.  Bake for 20 minutes, cool for 5 minutes, turn out & enjoy! In large bowl combine: 1 1/2 cups all purpose Flour 1 cup rolled oats 1/2 cup brown sugar 1 tsp baking powder 1/2 tsp baking soda 1/2 tsp salt 1/2 tsp cinnamon In medium bowl mix: 1 cup (250 ml jar) Yummies in a Jar Simply Cranberry or    ...
Posted by Lynn Murden on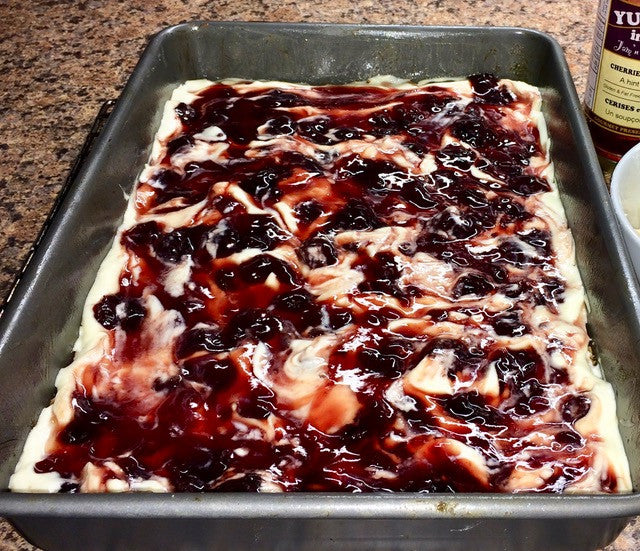 A tasty dessert square combining cream cheese and Yummies in a Jar Cherries  Almond Jam.